03-02-2022
The good news is that we really have sold a lot this year and that, for the first time in years, productivity has gone up instead of down. I had almost started doubting Darwin and thought that humanity was killing itself with all its excesses. But things are looking up in our factory. I now think it was mainly down to me, that things weren't going so well.
The company exists for almost thirty years. I sometimes think that we are playing in the "furniture making Champions League". We make the most wonderful furniture with the attention and time that I thought would no longer be possible. History repeats itself; just like furniture makers of the past used to create the most beautiful objects on behalf of kings, emperors and the very wealthy, so now do I design and we create for the new kings and emperors. This is not what I wanted, long ago I expressly chose to make an affordable collection and not to focus on unique and extremely expensive objects.
A year or so ago, Job (of studio Job) commented that I had missed the mark when it comes to luxury items. Luckily, I can now say that I have not completely failed at my goal because, as well as special and labour-intensive products, we still make affordable items. The Crisis Collection is perhaps the best example. We have now also devised a "pop up production store" for Merci (the concept store in Paris). Job almost had a heart attack when he read that we are organising an auction with Troostwijk. We are good friends, and he had the feeling that I was digging my own grave again. Whether or not that is the case, time will tell, but for now it's a fun experiment!     
---
---
Glenn (one of our master carpenters) has made the "pop up production store" prototypes. He has worked out how to make a range of simple and affordable items of furniture using relatively simple tools and planks of scrap wood that are all the same thickness and width. In the store in Paris! Customers can choose the model and colour on the spot. The presentation was supposed to take place during Maison Objet but this fair has been postponed, so the pressure was off and we were able to complete the idea in our own time and make thorough preparations. So, we will soon be opening our very first "pop up production" store in Paris.
---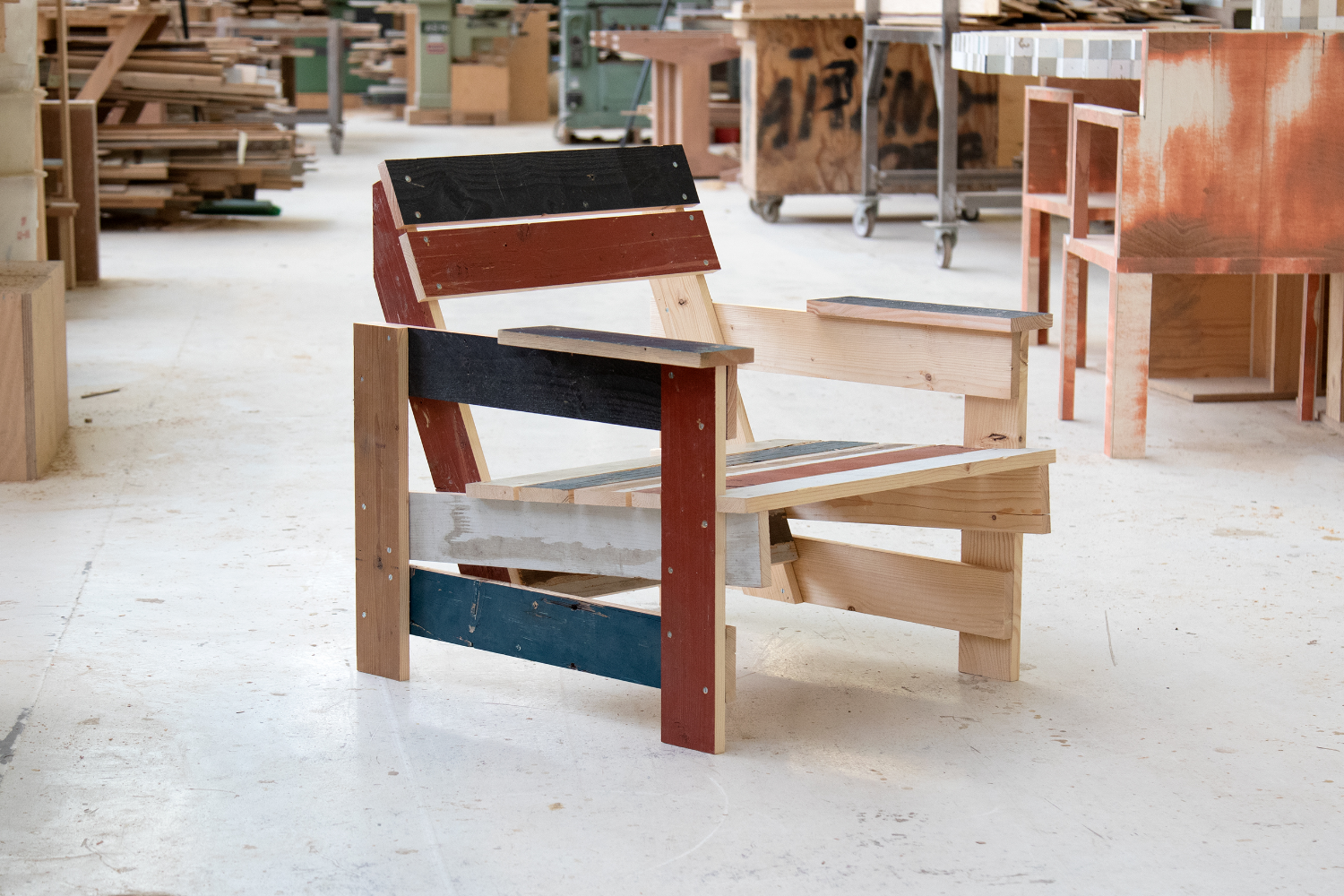 This post is also available in: NL