13-04-2018
The last few months have been intense, but that's not a problem. Sometimes you make mistakes and you roll with the punches. But last week we delivered the beach pavilion – a building that we decided to build for special reasons. and one where I did a few things wrong and incorrectly estimated. You could write an epic novel about this project, filled with everything that makes for a gripping read. The complexity of life, how people get along with each other and above all, how difficult it is to just get a process up and running – all these elements would provide sufficient material. My conclusion, in any case, is that everything that could go wrong did go wrong, and that I also contributed to some of those errors and spent a lot of time trying to both stop and correct them. To the point that I went to bed with them, dreamt of them, and woke up with them still on my mind.
My personal view is that I fixed a million details after the fact, when I should have solved them at the beginning. Our staff should have put everything into place to complete the project successfully. Even the client and everyone else involved have been put to the test. In the meantime, I know that everything always works out in the end, and it will also work out again. Paviljoen Noord is open and it was absolutely jam-packed on the first day.
I also know that these things don't happen in isolation. So, aside from that huge project we had put all our efforts into, sales were going better than ever. At the most critical moment – the week when the beach pavilion was to open – I had to go to Japan to present the INDUSTRIELL collection that I had designed for IKEA. We also took the opportunity to piggy-back onto a presentation by Cïbone, our dealer in Tokyo.
Before I left for Japan and when I thought that the last details of the beach pavilion had been sorted, I got a call from Cok (from the Frozen Fountain Amsterdam). Dick Dankers had passed away. At that moment, the world stood still. And now, a number of weeks later, I feel that I have travelled a long way.
But the world keeps on turning; the beach pavilion is now open but not fully completed yet and we have an order wallet that is bursting at the seams, assignments that are gorgeous but that require the utmost attention. Next week we are going to Milan to present at de Salone. Normally you present new products there, which we have quietly argued about over for years now, but never really got into too deeply because of the rush we have been in during the past months.
Fortunately, Rossana came up with a solution a while ago. She decided she would rather present a 'wonder room' comparable to ours, than give a product presentation. So, we are going to create a room where it is pleasant to be in, and especially to dine in (that's actually the concept of our Wonder room). I'm so bold to write this because I think Rosanna does not read my blogs or newsletters.
What Rossana had in mind required a table. We made a new one. It has actually become more of a modular system of a number of rather fancy tables. They are all 78x78x78 centimeters and built from cubes of 78×78 millimetres – that is, ten blocks high and wide. Above the tables we make a row of lamps from our new small ceramic lamps and as well as that, a block of 78x78x78 centimeters small ceramic lamps. So, our lamps will take a lead role because we are also showing a new series of one mould lamps (for the first time also all the models we have).
The Wonder room we have in Eindhoven is a mix of art, design, antique and anything we think is beautiful. For de Salone we have made an inside-out tree – completely useless, but interesting. If you saw a tree into four precise vertical pieces and stick them back together inside out, then you've got a straight beam of maximum efficiency and rounded quarters of wood. What more could you want; hardly any waste, a lovely grain structure and a good story – but a lot of work and actually nonsensical. The tree is our Salone theme and for this reason we have also brought a work by Tokihiro Sato from our Wonder room to honour the tree.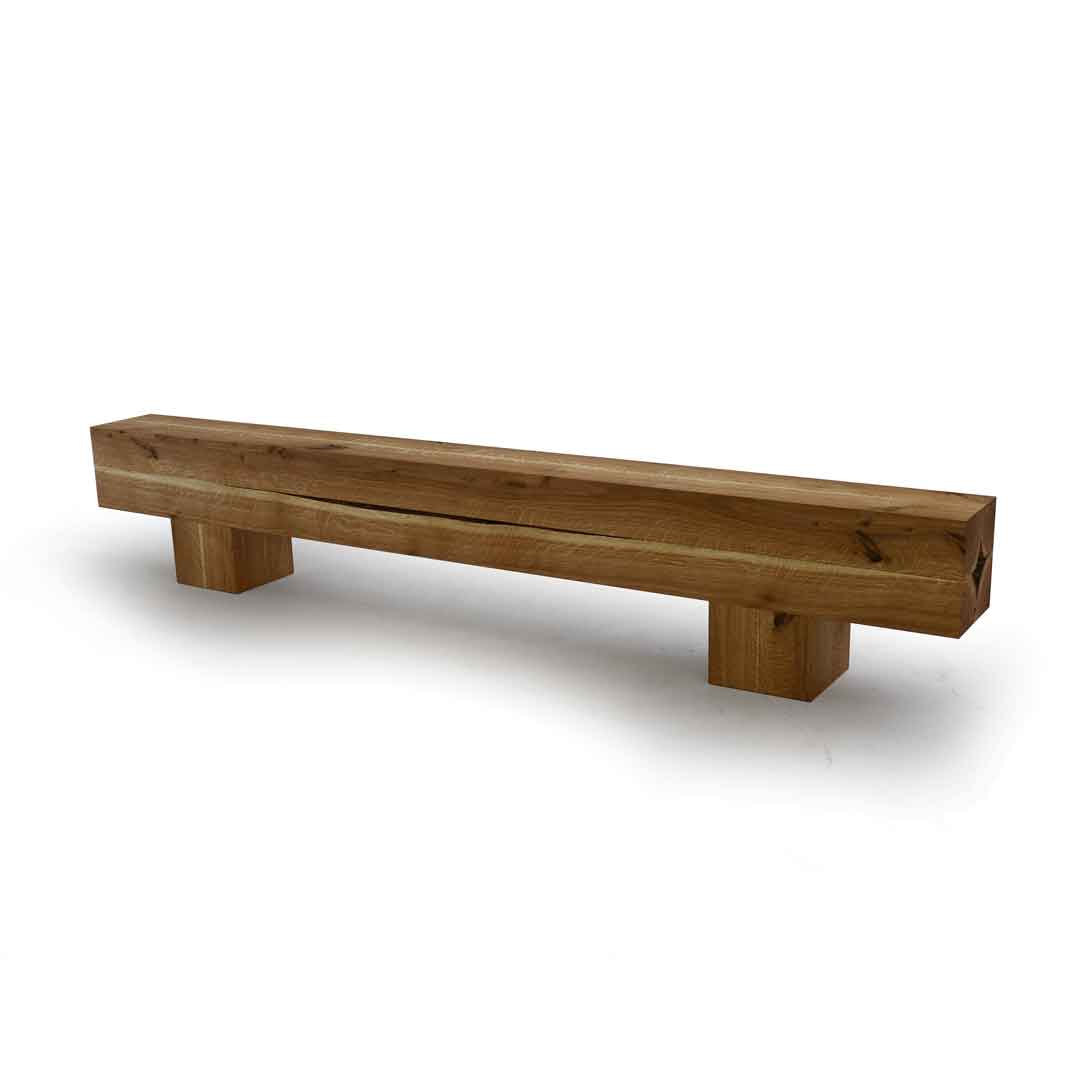 Perhaps the best thing of all is the oak display case on legs. The oak display case is a design from 1993 which has been around a while, but now that it is on legs it's become a completely different product. It's remarkable that a 1993 design has been in the collection all this time and that we are making a new model based on it. That's sustainability, elaborating on what you have done previously and working with the same products and, above all, working with the same people a long time, too.
Please click  the following link to download the catalogue (please notice: some prices have been subjected to changes). 
If you would like to receive HR images, please send an e-mail to Pim Hoff (pim@pietheineek.nl).
This post is also available in: NL
« Back to blog