(The information on this page is only available in Dutch, please scroll down for the additional information. We are sorry for the inconvenience!). 
De neo-klassieke, Belgische pianist Guy Van Nueten bouwt al enkele decennia aan een veelzijdig oeuvre en heeft solo een heel eigen benadering van muziek componeren: als tegengif tegen de steeds hectischer wordende maatschappij.
De afgelopen decennia maakte hij naam als uitvoerder en/of arrangeur op albums van dEUS, Zita Swoon, Magnus, DAAN en Admiral Freebee, bracht hij met Tom Barman (dEUS) het album 'Tom Barman en Guy Van Nueten Live' uit en maakte hij muziek voor film, dans en theater. Maar bovenal is hij eigenzinnig solo pianist die hedendaags klinkende muziek maakt met wortels in de klassieke muziek. 
In november verschijnt zijn nieuwe album 'Contact' (Sony Classical). Hiermee voltooit hij zijn solo piano-trilogie, waarvan het eerste deel 'Merg' in 2009 verscheen, gevolgd door 'Pacman' in 2013.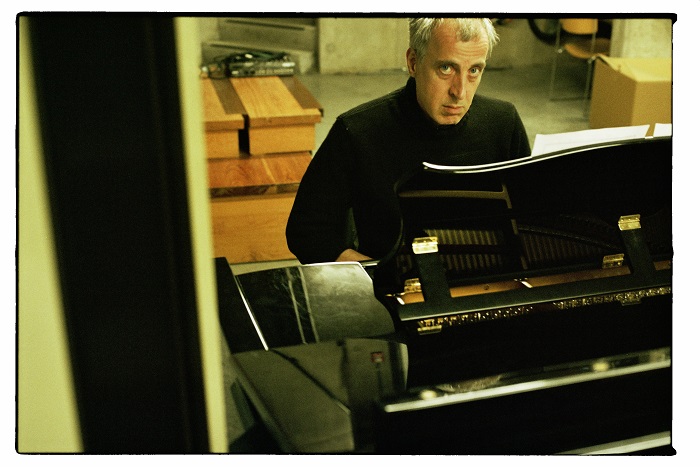 Fotografie: Kris Dewitte
Van Nueten over de eerste single 'Lento Pacifico' van zijn nieuwe album: 
"Lento Pacifico' is voor mij persoonlijk een 'tegengif' voor het feit dat de maatschappij steeds drukker en sneller gaat.
Overal zie je mensen klikken en swipen en vastgekluisterd zitten aan een scherm. Het lijkt steeds moeilijker om in het hier en nu te blijven.
De kunst is om het werk zo traag mogelijk te spelen, ga je daarin te ver dan verliest het alle samenhang en brokkelt het uit elkaar. Speel je het te snel dan wordt het vrij banaal.
Heel bewust heb ik in de partituur geen enkele aanwijzing over tempo, dynamiek of frasering gezet. Hoe het stuk uiteindelijk klinkt hangt af van ondermeer: de akoestiek van de ruimte, m'n hartslag, de klank van het instrument, de aard van de dag, het publiek…
Ik merk dat mensen het leuk vinden dat ze niet weten wat de volgende noot gaat zijn. Als uitvoerder weet ik dat wel, maar wanneer precies de volgende noot gaat komen weet ik evenmin: dat hangt af van bovenstaande parameters."
Guy Van Nueten
Saturday 8 December 2018
Start: 20:15 uur | doors open at 19:45 uur
Entrance: € 12,50 (excl. € 1,50 service costs in the pre-sale)
This post is also available in: NL