25-05-2020
It all began when we purchased a CNC (computer numerical control) machine in 2000. It had not yet been delivered when two planes hit the Twin Towers and we found ourselves in a crisis. The Western world was immersed in fear of terrorism, polarisation and this even resulted in a few wars in the Middle East. Obviously, the impact was enormous and the whole world was dragged into an economic crisis.
Actually, things were not so bad in Europe, particularly not in the more northern countries. Just a few lost their jobs and there was only a brief stagnation. However, people complained bitterly. Inspired by all the complaining, I decided to use the beautiful machine to make inexpensive furniture that customers could assemble themselves. But it turned out that the customers were not as poor as they had thought and continued to buy ready-made tables and chairs. The 'crisis collection' was born and has now been an integral part of our range ever since.
The credit crisis in 2010 was a reason to expand our collection with products that were cheaper and easier to produce; very appropriate because the banking crisis had a much greater impact on us than the previous one.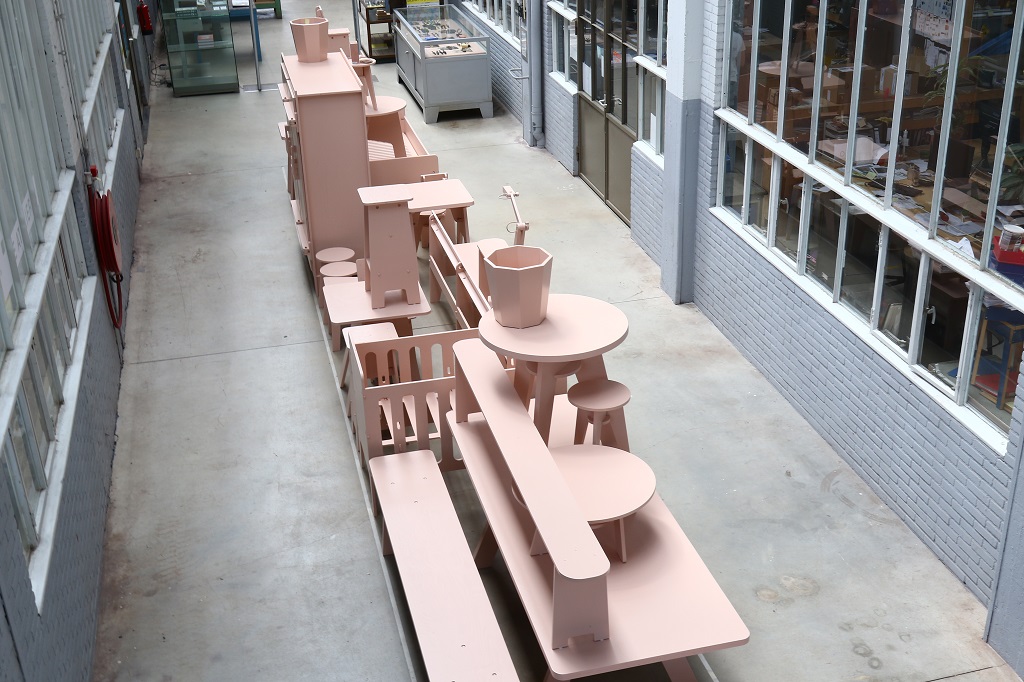 And now, to mark the third crisis, we are celebrating our twentieth anniversary! We have dusted off all our crisis and crisis-related furniture made during the past two decades and sprayed them corona pink!
As business and life are now largely taking place remotely, we have started making a series of films that showcase our products and the manufacturing process. Perhaps these films will be a reason to visit us in real life and to see where the products are devised, created and displayed.
Long live crises, on to 2030!
Corona Crisis Collection
This post is also available in: NL