If the signs are to be believed, it's going to be another fantastic Salone. As always, everything is different than previous years, except that our presentation will once again be up in the most unfindable place by Rossana Orlandi. Yet up there is actually a wonderful place, as pretty much everyone who comes there, comes especially for us. And this year we have the kingdom to ourselves, at least that is what we have agreed, which is never completely certain in Milan.
This year Rossana has asked us to make our presentation a little more chic. She wants to present new and more expensive objects. This request did not completely match what we are currently doing, nor was it completely at odds. So we gave it a little twist.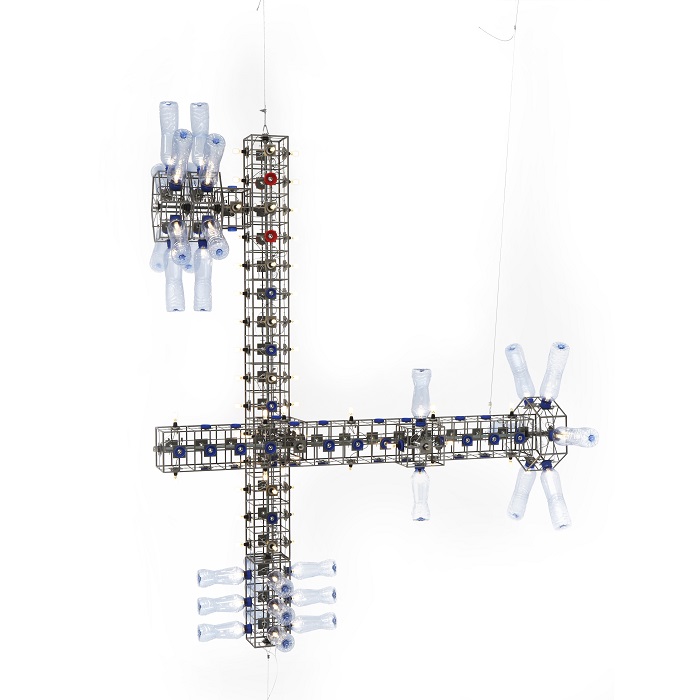 Photograph: Jérôme Galland
The lamps for Veronese that we presented earlier in the year are certainly very chic, but these are not new. To counterbalance this gleaming luxury we will also present the 'plasticbottlelamp'. Hardly anyone finds this plasticbottlelamp beautiful, but the few that are enthusiastic about it recognise the unprecedented fun that it radiates down to the smallest detail. To further accommodate a little good taste, we have made it completely in blue. The plasticbottlelamp may well be made from disposable plastic, but it more than complies with the expensive-product-wish due to the fact that it is completely hand-crafted.
Especially for the Salone and ultimately to meet Rossana's request, we have made a cabinet that almost nobody needs, so it's really chic. The little cabinet is made from the worst pieces of the NYC water tower wood. The whitened and crackled surface resembles the skin of a prehistoric reptile. 
Also with a patina as if it has survived many years is the very first oval table we ever made. The oval shape was originally drawn out using a piece of string and a nail, and sawn with a jigsaw. Now we do this using a CNC machine. The table has come back to us because we have recently tried to give new homes to some special objects that we once made but that are in danger of becoming homeless as people downsize to smaller properties.
The super-affordable, for us, exactly-from-one-sheet-print-cabinets derive their lustre this year from paintings by the old masters that we took from the digital image archive of the Rijksmuseum Amsterdam. At exactly the same time moment, the first roll of 'old-master-wallpaper' by NLXL rolled out of the printer. For NLXL we are now putting the finishing touches to the most luxurious presentation furniture we have ever made.
The first prototypes of a new watch by LEFF Amsterdam arrived a few days ago. Luckily we chose to first make a much more expensive automatic instead of the less expensive synthetic tube watch. With the introduction of the 'Royal Tube Automaat' we completely comply with Rossana's request, except that we can only present prototypes at the Salone.
So, there is always something, and in hindsight it is always different that we had expected and beforehand, as always, we believe it is going to be fantastic!
Saloni 2017 downloads
Caution! File (.zip) with high res. images ~95mb.